Ron Johnson Owes Wisconsinites a Straight Answer Tonight
From Enriching Himself to Endangering Us, We Deserve to Know: 'What Was This Guy Thinking?'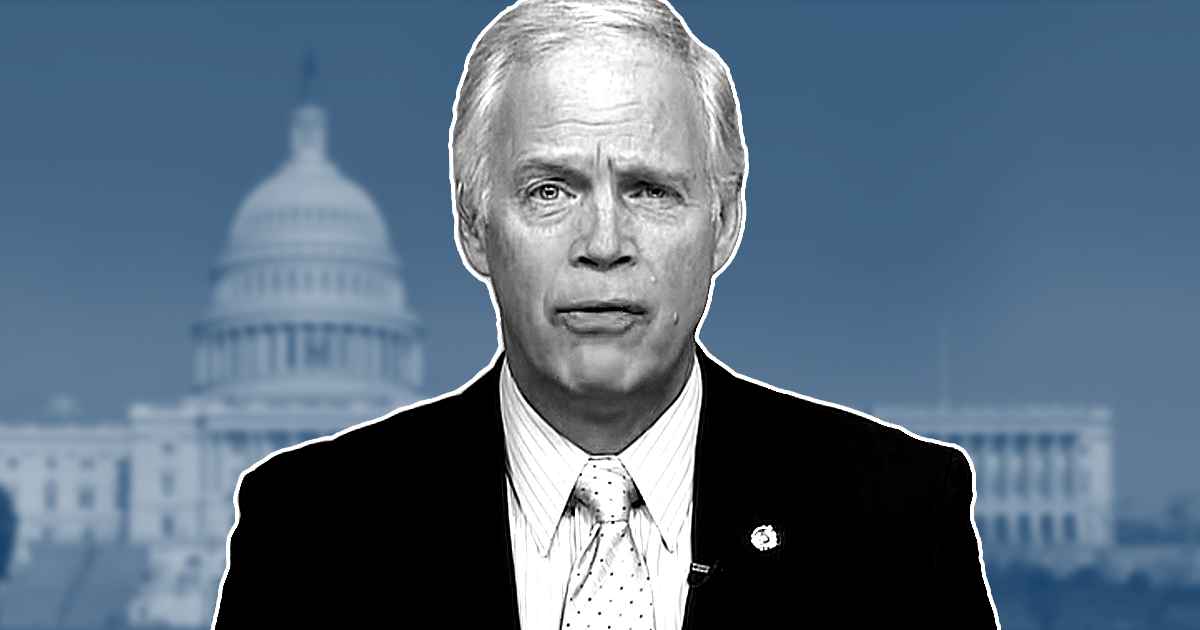 MADISON, Wis. — From Jan. 6 to voting against life-saving abortion and gun safety measures, Sen. Ron Johnson has made a lot of bad decisions in the U.S. Senate. In a debate on Friday night, Johnson will have a chance to try to explain himself on these and other issues.
A Better Wisconsin Together Executive Director Chris Walloch said viewers deserve in-depth answers and accountability from Sen. Johnson regarding his involvement in the Jan. 6 insurrection and policy stances on abortion, gun reform, the economy, outsourcing jobs, climate change, and more.
"Ron Johnson's record is littered with blunders and bad decisions," according to Walloch. "And while he can't go back and undo the damage he's caused, the least this guy can do is give us a straight answer to the question: what was he thinking?"
On abortion, Sen. Johnson must be held accountable for describing the overturning of Roe v. Wade – a decision that set human rights back five decades – as a thing of "beauty," and why he advocated for a 20-week federal abortion ban and co-sponsored a personhood amendment to the constitution that would devalue the lives of pregnant people.
"In his tenure, Sen. Johnson has delivered no plans to protect reproductive care in Wisconsin, other than spreading divisive disinformation and gravely downplaying the dangerous impact that the loss of abortion care is having on his constituents," Walloch explained.
On gun reform, Wisconsinites deserve to know why Sen. Johnson voted against the Bipartisan Gun Safety Bill, which aims to increase school safety and keep guns out of the hands of people experiencing mental health crises. He must also answer to the roughly $1.2 million in campaign donations and spending on his behalf from the National Rifle Association (NRA).
"The agenda of the NRA is at odds with the vast majority of Wisconsinites, who overwhelmingly support common sense gun reform," said Walloch. "Instead of putting forth a plan for common sense gun safety, Sen. Johnson is in Washington D.C. opposing measures to keep deadly firearms out of dangerous people's possession.
"Sen. Johnson has said he prioritizes public safety, but constituents deserve to know – how does he reconcile that with his stance on gun safety and his hand in the violent Jan. 6 attack on our nation's Capital and on our democracy," Walloch continued.
Other questions Sen. Johnson must be held accountable for Friday include:
Why he pushed tax loopholes to benefit himself and his wealthy donors, doubling his wealth since taking office while some constituents juggle keeping their lights on, affording medical care, and feeding their families.
Why he voted 'No' on the Inflation Reduction Act, a piece of legislation supported by 2 out of every 3 Americans that aims to lower energy and healthcare costs, create more jobs, combat climate change, and reduce the deficit.
Why he has pushed for Congress to decide on a year-to-year basis whether or not hard-working Wisconsin families will receive the Social Security benefits they're entitled to?
Why he voted against the American Rescue Plan Act, a piece of legislation that lowered healthcare costs and expanded coverage for Wisconsinites amid the COVID-19 pandemic.
Why he opposes support for Wisconsin families to afford childcare
"It is our sincerest hope that Sen. Johnson is publicly held accountable for these dangerous policy positions at Friday's open forum," said Walloch.
Together, we can demand that all politicians in Wisconsin support the best interests of Wisconsinites – including safe abortion care, an equitable economy, and common sense gun reform.
Call Ron Johnson today at (202) 224-3121 and tell him Wisconsinites want real plans for the issues they care about.